Introduction
When you insert a flash drive into your Mac running OS X Yosemite, an icon for the drive appears on your desktop automatically. Using this icon, you can open the flash drive and transfer files.
Step 1: Insert your flash drive into your Mac and locate the icon that appears on your desktop. In this example, the flash drive is named RZC. Double-click the icon to open the flash drive.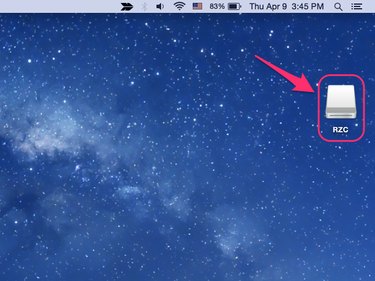 Tip
Click Finder on the desktop menu bar and choose Preferences to set up which items automatically appear on the desktop if you don't see an icon of your flash drive right away. Check the External disks check box.
Step 2: Click and drag files to or from your flash drive to move them.
Tip
If you are more familiar with using PCs than Macs, you may prefer to right-click to open items and access a menu on a Mac.
Alternatives to dragging and dropping items include using right-click and choosing Copy and Paste or selecting an item and pressing Command-C and Command-V.
Step 3: Eject the flash drive when you are done transferring files. Click the gear icon on the menu bar in Finder and choose Eject [flash drive name].