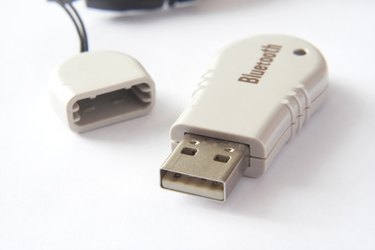 "Pairing" is a term used when you are connecting a cell phone to a computer via Bluetooth technology. Other terms used are "sync" and "connect." A Bluetooth connection between your computer and cell phone will enable you to transfer files between the two devices, use your phone as a modem for Internet access on your computer and even use the phone as a remote control for your media player.
Step 1
Enable Bluetooth on your cell phone. Go to "Settings," select "Connectivity" and switch the Bluetooth on. Make sure the phone is set on "Visible to Other Devices" or "Discoverable" or "Find Me."
Step 2
Stick the Bluetooth adapter into your computer's USB slot. A light should start flickering on the adapter to indicate the device is active.
Step 3
Open up your Bluetooth software and click on "Pair" or "Devices." Select "Add" or "Add New Device." The computer will now search for other Bluetooth devices in the area.
Step 4
Select your phone from the list of discovered devices displayed on the computer, and click "Next" or "Add Device." In some cases a menu will pop up, requiring a pass key for security purposes.
Step 5
Enter any four-digit code as a passkey on the computer. Accept the pairing request on your phone and enter the same passkey.
Step 6
The two devices are now paired. Click on "Save Device" if you are planning to use this specific phone with your computer regularly.
Things You'll Need
Bluetooth adapter or "dongle"

Bluetooth software for the computer, compatible to the adapter used