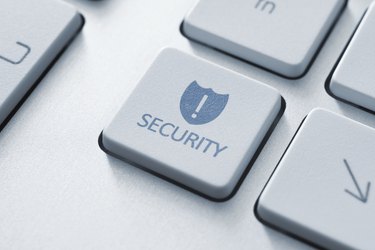 When you're sending documents or information that you don't want anyone else to see, you have to take some extra steps to make sure the information gets to the person for whom it's intended. In Outlook, you can do this by sending the recipient an encrypted email, which looks scrambled or unreadable for anyone but the sender. To make this happen, you'll need to use a digital ID given to you by a third party that verifies your identity and installs a special password-like "key" on your computer. The recipient of the email needs to have one of these keys as well.
Create a Digital Signature and Verify Each Other's Identity
Step 1
Navigate to Microsoft's "Digital ID" Web page (see link in Resources) and choose one of the digital signature providers.
Step 2
Click on a provider's link to navigate to the provider's page, and then follow the instructions to obtain your own digital signature. This is a unique electronic ID that you can use online to verify your identity, and it's essential for sending encrypted email. Once you receive your digital ID, an envelope icon should display on your Outlook top menu, called the "Digitally Sign Message" icon.
Step 3
Send your desired recipient a verifying message, which provides him your digital ID. To do this, create a new email message, click the "Digitally Sign Message" icon and then send the email. You and your recipient both need to verify each other's identity in this way before you can send encrypted messages.
Step 4
Ask the recipient to send you a reply when he receives your test message, including his own digital signature in the email in the same way you did. Once you receive it, his digital signature will be stored on your computer, so you'll both have each other's information "keys." Now you can send encrypted emails to one another.
Send the Encypted Message
Step 1
Open a new email message and click the "Options" menu.
Step 2
Click "Message Options" from the "More Options" field.
Step 3
Click "Security Settings," and then "Encrypt Message Contents and Attachments."
Step 4
Finish creating the message and click "Send." The message as well as any attachments you've sent will be protected.