Available for both Windows and Mac systems, the VLC Player lets you view a variety of media files on your computer using a program that is not only free, but also compact in size. An alternative to commercial media players, the player lets you view streaming movie files from the Internet, listen to audio files from the Internet and from a compact disc and view content from a satellite card. You can even view a DVD disc using the player and you don't have to load any additional drivers.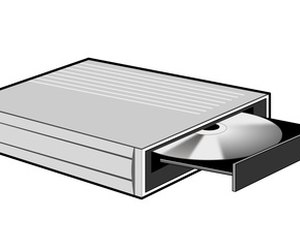 Step
Insert the DVD disc into your computer's CD/DVD drive.
Step
Open VLC Player by clicking on the program's icon on your Windows or Mac "Desktop" or by clicking "Start," "All Programs," "VideoLAN," "VLC Player," if using Windows.
If using a Mac, click on your Mac's Hard Drive icon. Click on the "Applications" folder. Click on the "VideoLAN" folder and then the "VLC Player" icon.
Step
Click "File," "Open Disc." The "Open" dialog box will open. Click on the "Disc" tab.
If using VLC Player version 1.0.5, the "File" menu option is labeled "Media."
Step
Click on the circle next to "DVD." Enter your CD/DVD drive's letter (assigned by your computer) in the box next to the wording "Device name:."
If using VLC Player version 1.0.5, there is no "Device name" option. Proceed to the next step.
Step
Click "OK." Your DVD disc will start playing in the VLC Player.
If using VLC Player version 1.0.5, click "Play" to start watching your DVD disc.