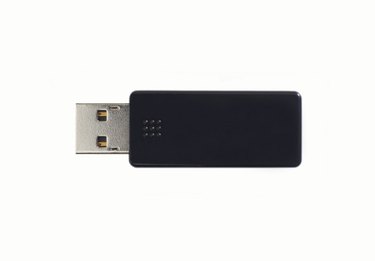 A flash drive, also known as a thumb drive, allows you to store, and easily transfer, files from one computer to another using the USB port on the back of your computer. Movies are large files, so if you want to save space, you can play a movie directly from a flash drive without needing to transfer it to your computer's hard drive.
Step 1
Take the cover off your flash drive. Connect it to your computer's USB port, which, for most computers, is in the back.
Step 2
Select the "Open" option (the one with the icon of a folder) when it appears in the auto-play screen that appears. Click "OK."
Step 3
Double-click on the video you want to watch. Windows Media Player opens automatically and begins playing the video directly from the flash drive.
Tip
Many modern televisions also have USB ports that you can use to play videos directly from your flash drive.
Warning
Don't remove the drive while the video is playing.