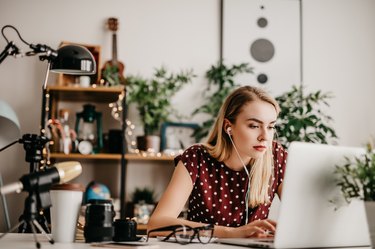 Types of video files known as MPEG or MPG files are named after the Motion Picture Experts Group that developed the format. There are .mpg extension files, which are usually MPEG version 1, as well as .mp2 files, .mp3 files and .mp4 files. Each MPG format can be played by different players, and some require add-ons to be used as Windows Media Player file types. You can also play MPG files with other tools such as VLC.
Windows Media Player Format Types
Windows Meda Player is a Microsoft application used for playing a wide range of media types on Microsoft Windows, as well as its own Windows Media Player format. Microsoft provides a list of the types of files usable with various versions of Windows Media Player. When you download a new type of file, check to see if it's compatible with the version you have and whether it requires an add-on to play.
Playing MPG Files
If you download or otherwise come across a file with a .mpg or .mpeg file extension, it's often an MPEG version 1 file. If so, you're in luck because Windows Media Player plays these types of files automatically without any add-ons. Open the file using the "File" menu in Windows Media Player, and the file plays.
Some .mpg and .mpeg extension files are MPEG version 2 files. This is a file format used by DVD video. Windows Media Player can't play these files without help, but you can download add-ons, known as DVD decoders, from Microsoft's website to handle them. Players are also available from companies including Corel and Cyberlink. Look to see which features they have and how they match up with your needs.
Another MPEG file format is MP3 audio. These are playable by Windows Media Player and other programs, including many web browsers, without plug-ins. They have the extension .mp3 and contain only audio, not video.
MPEG version 4 files are not playable by Windows Media Player directly. However, you can download plug-ins called decoder packs for these files using links at the Microsoft website to let Windows Media Player handle them. They usually have the extension .mp4 or .mp4v.
Other MPG Player Software
Windows Media Player isn't the only media player available for Windows. You may be able to play additional files using other players. Some examples are Apple's iTunes, the free program called DivX and the free and open source tool called VLC Media Player.
Check to see which of these players can handle the files you want to play. VLC, for example, can play MPEG-2 and MPEG-4 files without any additional support files.