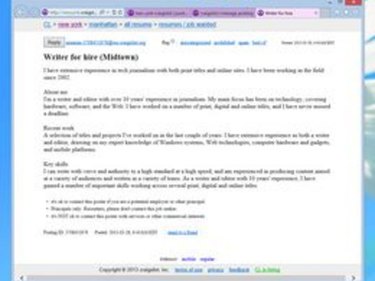 How to Post Your Resume on Craigslist. Craigslist is a free and efficient alternative to sites that charge to post your resume. Follow these simple steps to post your resume on the site.
Step 1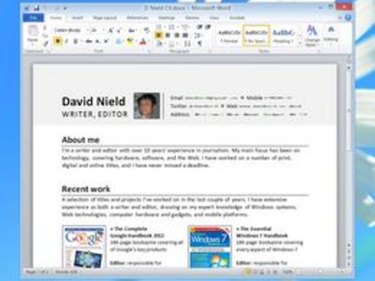 Prepare your resume. Have it saved as a Microsoft Word file or in another common format.
Step 2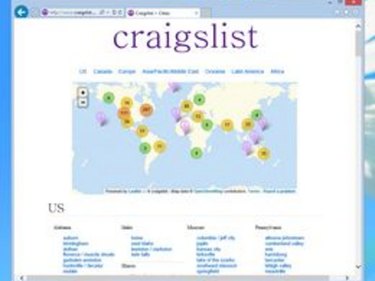 Open your browser. Connect to the Internet and visit the Craigslist Web site (see Resources below).
Step 3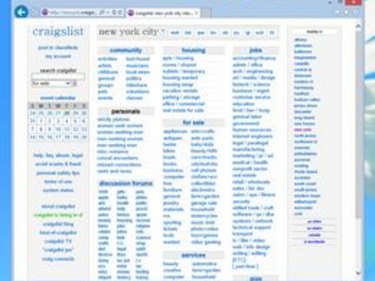 Choose your location. First choose your state from the list on the right, then choose the nearest city on the next page.
Step 4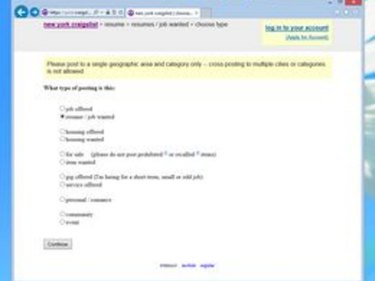 Click on "Post to Classifieds" in the top left corner of the screen. Then select "Resume / Job wanted" on the next list.
Step 5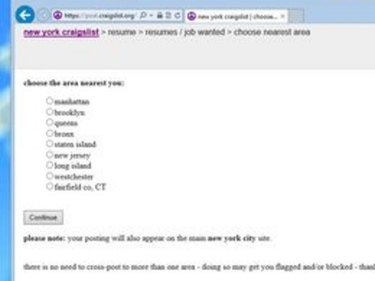 If prompted, select the neighborhood in which you live. This field is not required but it might inform employers that you live nearby.
Step 6
Choose a catchy "posting title." In the box labeled "Posting Title," write a brief headline that describes your skills.
Step 7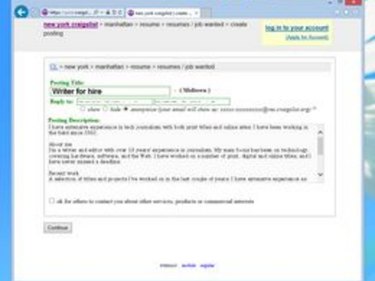 Copy and paste your resume in the large text box labeled "Posting Description." Make sure the entire text is pasted correctly and the formatting looks neat. Include your e-mail address.
Step 8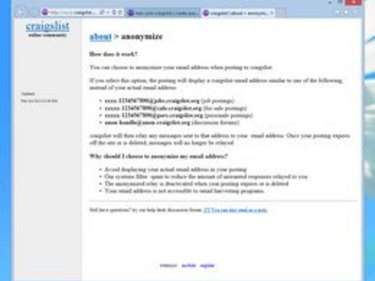 Select contact options. There is an option that will keep your e-mail address anonymous and protect you from spam.
Step 9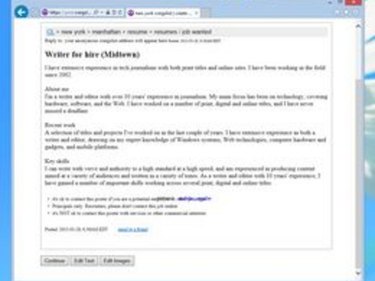 Click "Continue," add any images that are required and click "Done with Images." Preview your posting and select "Edit Text" if you wish to make revisions. Click "Continue" when done.
Step 10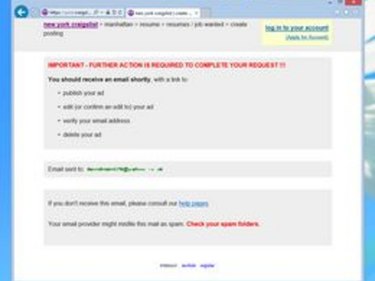 Verify the information shown on screen, which shows the email address where the confirmation link has been sent. You'll need to click on this link to publish the resume.
Step 11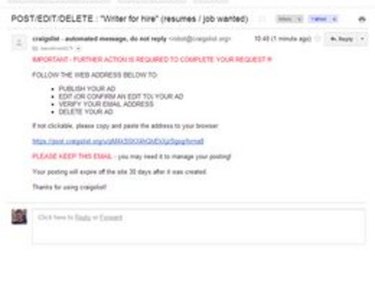 Check your e-mail for a message from Craigslist. Click the link contained within the email.
Step 12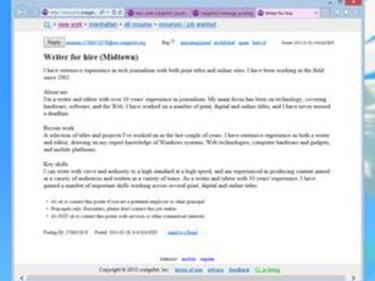 Publish your posting. Review your resume one last time and click "Publish" once you are confident everything looks good.
Things You'll Need
Resume

Internet access

Computer
Tip
Save the email you got from Craigslist. You will need this to edit or delete your posting.
Select the third option beneath your e-mail address if you have other preferred methods of contact. You'll be asked to provide this information.
You can only post to one category in one city every 48 hours.
Warning
There is a check box on the form that reads, "OK for others to contact you about other services, products or commercial interests." Leave this unchecked. It is basically an invitation to spam.
Limit your posting to just one region.