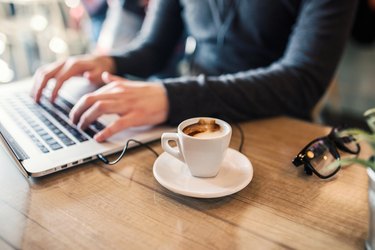 Facebook allows you to connect and communicate with your friends and family through emails and instant messages. Using Facebook Chat, you can talk to your Facebook friends in real time, regardless of their location. When you begin chatting with a friend or family member, Facebook begins keeping track of your chat history, allowing you to access the conversation any time. When a chat conversation includes important information, such as an address or recipe, it might be important to print the message. You can print your Facebook Chat conversations directly from the Facebook website.
Step 1
Log in to your Facebook account and click the "Chat" box from the lower-right corner of your screen. The Facebook Chat interface opens.
Step 2
Click "Options" and click "Pop-out Chat." The Facebook Chat interface opens in a separate window.
Step 3
Click the name of the friend whose chat conversation you want to print. All chat conversations with that person appear in the right-side column of the dialog box.
Step 4
Highlight the text that you want to print.
Step 5
Right-click the highlighted text and click "Print."
Step 6
Select a printer and click the "Selection" button from the "Print Range" section.
Step 7
Click "Print." Your computer sends the highlighted text to your printer and prints the chat conversation.