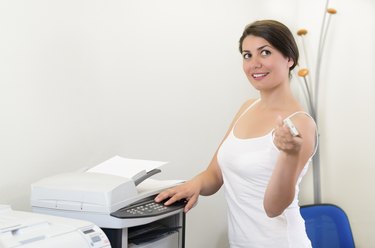 Facebook doesn't have an option to print the private messages in your inbox, but that doesn't mean you can't do it. You can use your browser's print function, take a screen shot or copy the text to a text document. The method that works best for you depends on whether you are printing quick excerpts or long conversations. Printing from most browsers is similar.
Print From Your Browser
Step 1
Open the Facebook message in a browser window and position it so the entire message is visible.
Step 2
Press the "Ctrl-P" keys on your keyboard to open the print options window in Chrome. Click "Print" if the options and print preview look acceptable.
Step 3
Click the menu button in Firefox -- the button that looks like three horizontal lines on the toolbar -- and then click "Print." Click "Print" when you are ready to print.
Step 4
Click the gear icon in Internet Explorer. Hover over "Print" and then select "Print." Click "Print" again.
Print a Screen Shot
Step 1
Open the section of the message log you want to print, making sure it is all visible on your screen. Press the "Prt Sc" or "Prt Scn" button on your keyboard -- typically positioned next to the F12 key -- to take a screen shot.
Step 2
Open Paint on your computer and click "Paste." This shows you the screen shot you just took of your visible screen. If you prefer, use the crop tool to select only the Facebook message and then copy the selection to a new Paint document.
Step 3
Click "File" followed by "Print" to print the screen shot. Note that this uses color ink from your printer.
Print Pasted Text
Step 1
Open your Facebook message log. Use the cursor to click and drag over the text in the message log to select it all. If the message log is long, you may need to copy and paste in batches.
Step 2
Open a new document in your word processor of choice and paste the text into it. Format the text however you like to make the text smaller and ready for printing.
Step 3
Print the file as you would a normal text document.