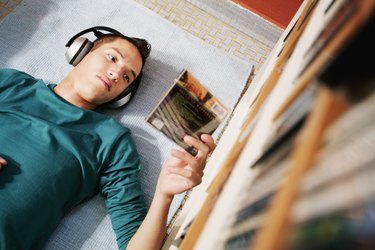 It's easy to customize your CDs cases by creating custom covers. In Microsoft Word, you can use CD case dimensions to set the dimensions of your document so it will exactly fit in the case. An even easier option is to load a predefined Word template that's sized exactly for CD covers. Once you've added content, print the cover out and then cut it to fit inside your case. Another option is using Avery's label design app to design and print a CD cover.
Using CD Cover Dimensions
The standard CD cover size is 4.75 by 4.75 inches, or 12 cm by 12 cm. This dimension is for the front or back cover of a standard jewel CD case. To use these dimensions for your document dimensions in Word, go to the Size menu on the Page Layout tab. Select More Paper Sizes from the menu. In the Page Setup dialog, enter 4.75 for the document width and height. Click OK to exit the dialog. Your document will now be sized to fit within a CD case.
Finding a Word CD Cover Template
Using a template can simplify CD cover creation since you don't have to worry about setting the size of your document. A template is especially useful if you want to make a cover that includes the front, spine and back of the CD case. The quickest way to find a Word template for a CD cover is to visit the Word template website at templates.office.com. Type "cd case" into the search field to see templates that you can download.
When you use a template, you can modify the contents for your own purposes. So even if you download a template that shows a Christmas tree or some other specific image, you can delete the contents and create your own custom cover. The advantage of starting out with the template is that it gives you the correct layout and dimensions to fit within a CD case.
Using an Avery CD Case Template
Avery Products, a label and printing company, provides free templates for CD labels and CD cases at avery.com. If you create an account on the Avery website, you can use the Avery Design & Print online app to create a CD cover and print it out. You can also download Avery templates that are compatible with leading word processing software including Word, Photoshop, PDF and others.
Tips for CD Cover Printing
Before printing out a CD cover in Word, be sure to use Print Preview to verify your cover's printed appearance. If you have an image that takes up the entire cover, you may see a white border in Print Preview. This is to compensate for a border required by your printer. To remove the border, resize your CD cover to allow you to cut away the border after printing. For example, if your printer requires a quarter-inch margin, add a half-inch to the width and height and size your CD cover to be 5.25 by 5.25 inches.