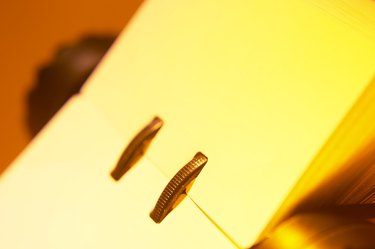 In the U.S., Rolodex cards for use with laser or inkjet printers come as part of 8.5-by-11 inch sheets with multiple Rolodex cards per page. The cards are perforated for removal after printing. The quality of the paper stock and the perforations are major factors in the cost. Printing cards is a matter of selecting or building the appropriate label template, printing and then removing the cards along the perforations.
Select Rolodex Stock, Software and Label Template
Step 1
Select the size and brand of Rolodex cards you want to use. Office supply stores carry national brands and often have their own store brand. If you are printing cards to give to customers, you will want to use higher end material, but if the cards are for internal use, less expensive options may work fine.
Step 2
Select the software you wish to use to create and produce your Rolodex cards. Your favorite word processing, spreadsheet or database package will probably support templates. Label software is inexpensive if you wish to explore that option.
Step 3
You will be treating Rolodex cards as though they were labels. Select or create the label template to match the Rolodex card dimensions and page layout. Many software packages that support labels, such as Open Office and Microsoft Office, have a template available for Rolodex cards. Just match the number on the box or on the included instruction insert shipped with the labels to the correct number from the label list in your software package. You can also create your own template by entering all the needed dimensions via the labels option in the Page Layout section of your software package. The Avery website has downloadable templates for all of its products.
Produce the Rolodex Cards
Step 1
If all your Rolodex cards are to be the same for distribution to clients and customers, lay out your graphics and information the way you want it printed. If your software has an option to simply replicate the design to all cards on the sheet, choose this option. Otherwise, you may have to copy and paste to fill all the spaces on the sheet.
Step 2
You can also print out the cards as you would any other labels by indicating where information goes by positioning field names rather than literal information. Flood data into these field names like you would with any other database or mail merge operation. See your software help menus for instructions on how to do this.
Step 3
Make sure your printer paper transport mechanism is set to print card stock. Print your Rolodex cards as you would any other document.
Step 4
Bend the printed cards a couple of times in both directions along the perforated edges. Tear along the perforations and punch out the small pieces around the tabs.
Things You'll Need
Perforated Rolodex sheets

Label template
Tip
Print a sample page on regular paper to make sure everything is aligned properly before printing on actual Rolodex card stock.
Warning
Hanging "chads" can damage a printer even faster than a Presidential election, so make sure the Rolodex card sheets are intact before processing them through your printer. Remove any small pieces and discard sheets that are severely damaged and that might catch on the printer transport mechanisms.