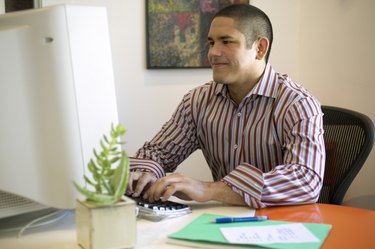 An XML file contains computer programming code in a text format, such that you can open and read it in any basic word processor or text editor. A PDF file is not text-based and requires a PDF-compatible reading program if you want to view the file's contents. The most popular of these programs is the free Adobe Reader. If you print an XML file to PDF, the text-based XML data will convert into the PDF format for opening in Adobe Reader or other PDF programs. This is easy to do with a PDF printer driver.
Step 1
Install the Bullzip PDF Printer on your computer (see References). This program operates as a printer driver, just like any other printer. You can easily print your XML file to PDF after the Bullzip PDF Printer is installed. The software is available for free and supports both older 32-bit operating systems as well as 64-bit systems. You may configure the program to automatically show the final PDF file onscreen once conversion is complete. Otherwise, you can open the PDF file separately using any PDF reading program. If you wish to "watermark" the PDF by superimposing your own name or logo on top of the XML data to indicate its source, Bullzip PDF Printer provides this feature as well.
Step 2
Download the pdf995 program (see References). Three versions of pdf995 are available and all are free. Each offers different features. With the entire suite installed, you can print any XML file to PDF and perform other related features. Among these, if you use Microsoft Office to open the XML file initially, you can use the "batch" feature to create multiple PDFs from multiple XML files automatically, without manually converting each one. Another feature allows you to combine these PDFs later into one PDF, if desired. All the original XML formatting remains, and you may also make any XML links in the file clickable in the final PDF.
Step 3
Install PDFCreator, a free, open-source PDF printer driver that will print your XML files into PDF (see References). You can add security features to your PDFs, if desired, so end users have only the access you give them. This is one of the primary advantages to converting an XML file into PDF. You can prevent the file from being opened without a password, or prevent it from being printed after it is opened. If you have multiple PDFs from multiple XML files, you can combine them into one long PDF as well using PDFCreator.
Things You'll Need
Internet connection

Web browser
Tip
Once a PDF printer driver is installed, simply select it from the list of available printers when you print your XML file from any text editing program. Instead of it printing to an actual hardware printer, it will instead be converted into a PDF file.