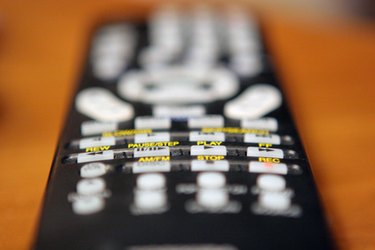 If you use DirecTV for satellite television programming and don't like to fiddle around with multiple remote controls you can program your DirecTV remote control to sync with any television brand, including Zenith televisions. The programming process only takes a few moments and once finished you can put the Zenith remote off to the side. However, after the programming the Zenith remote still functions with the TV, just in case you ever need to use it.
Step 1
Manually power on your Zenith television.
Step 2
Press the "TV" button on the DirecTV remote control, then press and hold the "Mute" button. While doing so hold down the "Select" button. A green light appears at the top of the remote and flashes twice.
Step 3
Press "991" with the number pad and the green light flashes twice again.
Step 4
Point the DirecTV remote control towards the Zenith television and push the "Channel Up" button. Continue to push the button until the television turns off.
Step 5
Press down and release the "Select" button. This completes the remote programming and you can begin using the Zenith TV with your DirecTV remote control.