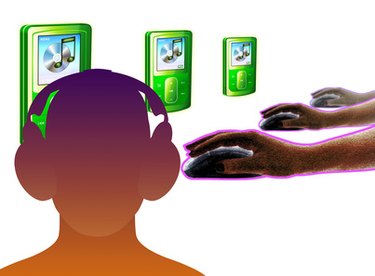 The term "mp4 player" usually refers to a handheld device that is capable of playing back video in mp4 format, along with other major video formats, such as .avi and .mpg. Because playing back a movie or a TV show also involves playing back sound, players that are capable of video playback are usually capable of pure audio playback as well. While some players interface with your computer using proprietary software, the vast majority of these players can be treated as any other kind of disk memory.
Step 1
Plug one end of the USB cable into the mp4 player, and plug the other end into a USB port on your computer.
Step 2
Double-click "Computer." You should see the device listed as a USB drive. Double-click its icon to open it in a file explorer window.
Step 3
Double click the "Music" folder to open it.
Step 4
Click "File," then "New Window." In the new window, navigate to the folder on your computer where your music is stored.
Step 5
Click and drag any folder that contains mp3, wav or any other file format supported by the player. Drop each folder in the player's "Music" folder, which should be open in the other window. Wait for all files to copy completely.
Step 6
Click the "Back" button on the window displaying the player's "Music" folder contents, until you are back at the "Computer" window.
Step 7
Right-click on the device's icon and select "Eject." The icon should just disappear.
Step 8
Disconnect the device from your computer.