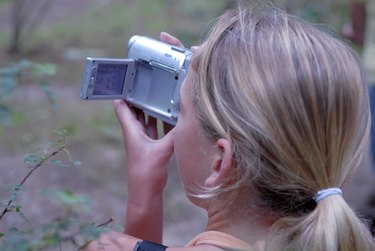 Recording a video is only one part of the video production process. Once the footage has been shot, it needs to be edited and encoded on a computer before it is ready for distribution. Video editing software is available in both professional and amateur variants with some applications, such as iMovie, coming included with systems.
Accessing Your Footage
Before any editing can take place, you must first import your footage onto your computer. Connecting your camera to your computer will enable you to access and copy the recorded files, which can then be imported into your program of choice. Video editing software is commonly divided into different windows: a "Browser" window, a place where your clips are stored, a "Viewer" window, where you can see your project in action, and a "Timeline," which is where the project comes together. When importing, it is a good idea to keep backups of your original video assets.
Editing Your Video
The majority of the editing takes place in the "Timeline" window of your chosen editing application. Here you will be able to adjust the order of your clips and tweak their length to fit your project. You must add clips to the Timeline from the Browser before you can edit them. Some video editing applications also come with tools such as the "Blade," which you can use to cut a clip at a specific point.
Adding Effects
Many video editing applications come with a varying number of built-in effects that you can use to improve your project further. These include filters such as blurs and color adjustments, and overlays such as text, graphics and shapes. These effects can often be manually adjusted to achieve a particular effect. Transition effects enable you to blend your clips together in a seamless or aesthetically pleasing way. A transition effect must be applied to the anchor point at the start or end of a clip. Transition effect include blurs, slides and wipes.
Exporting Your Video
It is important to be aware that saving a project is not the same as exporting a project. Saving a project only keeps track of the project in its current state, which means that it can only be accessed by that particular application. Exporting a video encodes the project into a video format, which can thereafter be played on a variety of video players. It is also possible to use dedicated encoding software such as Apple's Compressor and Adobe's Media Encoder to properly export your video, although all editing programs come with basic exporting tools.
Software
Windows Movie Maker is a free video editing program that you can download from Microsoft's official website. Alternative options include Sony Vegas Pro and Adobe Premier Pro. iMovie is a free video editing application that comes with Mac computers. You can also download it as part of the "iLife" set. Alternative options include Final Cut Pro and Avid Media Composer. Premier Pro, Final Cut Pro and Avid are all used by professional video editors to create high-quality videos.