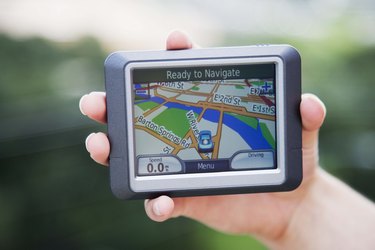 Registering a Garmin product has many advantages. Customers that register their devices receive important product-related emails regarding available updates and recall information, access to a myGarmin account which will recommend products and maps that are compatible with the device, and a chance to save 10% off on future purchases from the Garmin store. Registration is completed online. Keep your Garmin device handy during the process.
Step 1
Go to Garmin's online product registration page (see Resource).
Step 2
Choose a language to complete the registration process in. English is selected by default for U.S. users, but you can also select from a variety of other languages including Portuguese, Spanish and Italian.
Step 3
Click on the Garmin category icon based on the type of product you are registering. Garmin devices are divided into several categories -- Marine, Data Card, Phones, Aviation, MapSource and Automotive, Fitness, Sport and Outdoor Devices.
Step 4
Log in or create a myGarmin account. To create an account, enter your name and email address, select a user name and enter a password.
Step 5
Type in the product serial number. Depending upon the product, the serial number may be located in various places. On many mobile GPS devices the serial number is located on the bottom of the device. Select "Where is my serial number?" above the serial number field for exact instructions on where to find the serial number on your particular device. Some devices (like the eTrex) don't have serial numbers. In that case, select the product from the "Don't have a serial number?" menu.
Step 6
Confirm the registration details by hitting "Next," and the device will be registered. Unless you are registering an automotive GPS, like the Garmin Nuvi, this completes the process.
Step 7
If you are registering an automotive GPS device, follow the prompts to download the Garmin Communicator.
Step 8
When prompted, connect the automotive GPS to the computer using the USB cable that came with the device.
Step 9
Confirm the device information is accurate and press "Continue." Enter the myGarmin account user name and password when prompted and select "Next." The device is now registered.
Things You'll Need
Garmin device

USB cable (only necessary if registering an automotive GPS device)