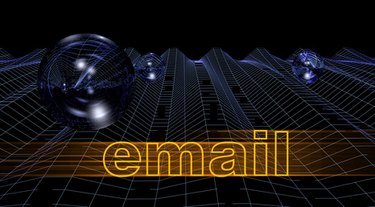 Lotus Notes, an email application for Windows systems, lets you send and receive emails as well as post and keep up with appointments on the program's calendar. The application also includes a database for storing task lists, forms and other information. To send a single email to multiple people, Lotus Notes lets you set up email groups that hold more than one email address. You can add, edit and even remove individuals, known as members, from an email group.
Step 1
Open Lotus Notes, if it is not open, by clicking "Start," "All Programs" and "Lotus Notes."
Step 2
Click the "Mail" icon to access your Lotus Notes "Inbox." Click the "Contacts" icon on the application's main toolbar to open the "Contacts List."
Step 3
Find the email group you want to remove members from and double-click the group's name to open it.
Step 4
Click "Edit." Click the member's name you want to remove from the email group. Click "Remove." Repeat steps 1 to 4 for each member you want to remove from the email group.
Step 5
Click "OK" and then the "Save & Close" button to finalize the deletions.
Tip
If you want to email a member you recently deleted, you will have to manually enter the member's email address into the "To:" box of a "New Email" or select the member's name from your "Address Book" if the member's name is in your Lotus Notes' address book.