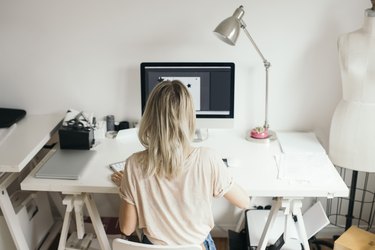 PDF file types are often made with restrictions for viewing, editing, saving and sharing. When you own a PDF file, it's easy to adjust and remove all or some restrictions. Without full ownership of the PDF or a password to access the restriction settings, however, it's challenging to remove the PDF restrictions. You'll require a third-party program in many cases to remove restrictions or to clone the file while creating a version without restrictions.
Copyright Requirements
The copyright on a PDF file acts as a legal restriction. Removing permissions to edit or copy a document that is protected by copyright is against the law. Before you remove permissions from any document, you must first either own the copyright or gain permission from the owner in a legally binding manner. Removing restrictions, making edits and using a copyright-protected document can land you in legal trouble, so be extra careful about manipulating documents.
Remove PDF Restrictions
To remove permissions from PDF documents, first take stock of existing restrictions. If the PDF prompts you for a password to view, edit or make adjustments, try to find the password. If you set the password, use it to access the document. After verifying ownership with your password, navigate to Tools, select "Encrypt," then remove the check next to the "Encrypt with Password" option to remove the restriction. Now the document is open for access.
You can also look at specific restrictions in this menu, remove print restrictions and open the document for outside editing. The other method of removing restrictions is through a third-party software vendor. There are numerous free options that will lift restrictions on a password-protected PDF document by simply loading the document to their software and clicking a button. The third-party options are ideal if you lose your password.
Adding New Restrictions
After making your edits and changes to the document, consider adding restrictions again to protect against unwanted manipulation from outside users. To do this, click "Tools" in the navigation bar, select "Encrypt," then check the "Encrypt with Password" option. Type in your password and write it down in a safe place as a backup option. Click "OK" to set the new password.
You can require the password to access the file, make edits to the file and to print the document. Type out a copyright on the footer of your document as well to add a layer of legal protection against theft.