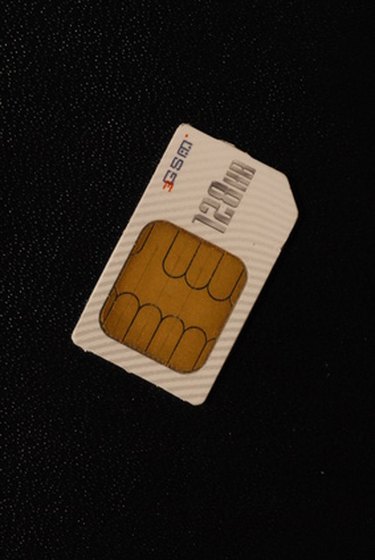 Many of Verizon's phones are CDMA phones. These phones do not require SIM cards for usage. However, Verizon's does carry certain handsets such as the BlackBerry Storm, BlackBerry Storm 2, BlackBerry Tour, HTC Imagio and HTC Ozone which are dual-technology phones. This means that in the U.S. they do not need a SIM card (CDMA) but if they are used outside of the U.S. they become GSM phones which require the usage of a SIM card. When you choose one of these handsets with your service you will be given a SIM card. If you lose this SIM card you will be able to replace it.
Re-ordering a SIM Card
Step 1
Call Verizon customer services on 1-(800)-922-0204 or by dialing *611 between the hours of 6 a.m. and 11p.m.
Step 2
Locate a previous bill. Take note of the account number printed on it as well your 10-digit cell phone number. You will need this information along with various account details such as your name, date of birth, social security number and passcode or password set on your account.
Step 3
Request a replacement SIM card. You can only get a SIM card if you have been previously given one. Verizon does not give out SIM cards unless you have a dual technology phone given from them. You can get these phones prepaid or postpay.
Inserting the SIM
Step 1
Remove battery cover and battery from your handset.
Step 2
Insert the SIM card into the slot provided. Insert it flat side first, the dog eared section should be on the outside.
Step 3
Replace the battery and cover.
Step 4
Fully charge the phone then power the phone on.
Step 5
Select "Yes" on the message that pops up. This will cause your phone to determine whether you are in a CDMA or GDM area. If you are out of the country it will automatically select GSM to pick up a sister network.