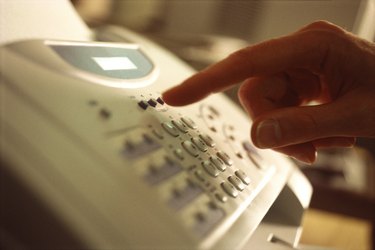 Although it's been discontinued, you should still be able to use a Brother IntelliFax-2820 laser fax machine for years to come, provided you keep it properly maintained. Part of this process involves replacing the drum when prompted. After installation, it's important to reset the drum unit's paper count to clear the prompt and to give you an accurate idea of how many pages the drum unit has handled before it needed replacing again.
Step 1
Shut your Brother 2820 IntelliFax down. Remove all cables from the fax machine. Wait a few minutes to give the machine some time to cool down.
Step 2
Pull the front cover down. Pull the toner assembly and drum unit out of your IntelliFax unit.
Step 3
Press the lever lock down on the toner cartridge. Remove the toner from the drum unit.
Step 4
Slide the toner cartridge into your replacement drum unit. See the lever lock lift on its own if you have installed it correctly.
Step 5
Put the drum assembly back into your Brother 2820, sliding it into the machine until it clicks in place. Turn the Brother 2820 on and wait for it to warm up.
Step 6
Press "Options." Press "1" to confirm you are installing a new drum. The Brother 2820 resets the drum unit's page count.