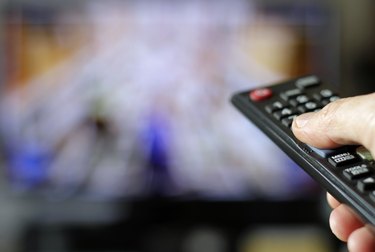 When your Sony Bravia XBR4 misbehaves, you can reset it using two different methods. A power cycle reset does not require a remote to perform, and it acts as a means of cutting off all running programs through a fresh start. It does not change the settings and is best used when the television is lagging, having minor performance issues or is frozen. The second method is a factory reset that removes all custom settings and saved accounts. The factory reset is possible with or without a remote. The remote process is most common, but both are easy to execute.
Power Cycle
You can turn on Sony Bravia TV without a remote and run a full power cycle to reset the television. This does not restore the television to its original factory settings, but it can solve minor operating issues. To run the power cycle, locate the manual controls on the television and press the power button to turn off the television. Unplug the power cord after the TV shuts down to separate the power completely. Wait for a full minute or slightly longer to drain all the residual power. Plug the power cord into a dedicated wall outlet to ensure it has a full power source and press the start button to turn on and test the television.
Reset to Factory Settings Without a Remote
Performing a full factory reset with or without a remote is more involved than a power cycle. You can access the Sony Bravia settings without a remote and perform the full reset. Locate the manual controls on your television and select the "Menu" button to pull up the Sony Bravia settings without using a remote. Use the channel-down button to navigate the options and select the "Settings" option. Select the "Storage and Reset" option next and then choose "Factory Data Reset" to remove all your settings and restore the factory settings. You are prompted to erase everything, at which point you must select "Yes." Your television restores itself to the factory settings and functions like a new TV. You must reinstall all your apps, input your login information and save any passwords.
Replacement Remote
Performing factory resets and accessing the menu is much easier with a remote control. While you can perform any action using the manual control panel, replacing your remote is ultimately a good idea. The remote is more efficient and makes it easier to use the television without slowly navigating menus on the physical control panel.