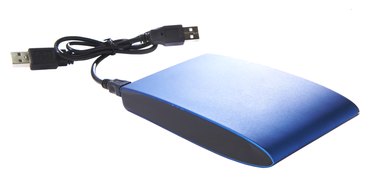 Restoring a computer to factory settings returns the computer to its original operating condition. Restoring the factory settings is a final effort for computer users to salvage their computer from devastating viruses or system errors. Fortunately for computer owners, many of the top manufacturers, including Dell, include a built-in restore partition on the hard drive that allows users to restore the factory settings without a supplementary CD. The restore process can be completed in a few steps by computer users with rudimentary knowledge of computer systems.
Step 1
Backup any essential programs, folders, photos, music or video to an external hard drive, as the restore process will erase all of the data on the computer's hard drive. Insert the USB cable from the hard drive into one of the computer's USB ports, and a folder will appear on the desktop for the hard drive. Drag any of the files you want to save into the hard drive's folder. Once you are finished copying the files, right-click on the hard drive folder and click "Eject."
Step 2
Remove any device cables from the computer, including any MP3 players, printers, scanners and the external hard drive, as the restoration process may harm the devices. The keyboard and mouse can remain connected.
Step 3
Restart your Dell computer. When the computer restarts, press and hold the "F8" key to open the "Advanced Boot Options" menu. This must be completed before the Windows logo appears on the screen. If the menu does not appear before Windows loads, repeat this step.
Step 4
Use the "down arrow" key to select the "Repair Your Computer" option in the "Boot Options Menu," then press the "Enter" key. Specify the language settings for the computer and click "Next." Enter the login information for the administrator account that was created when the computer was first turned on and click "OK."
Step 5
Click on the "Dell Factory Image Restore" icon, then click on the "Next" button on the welcome screen. Check the box for "Yes, reformat hard drive and restore system software to factory condition." Click the "Next" button to begin the restoration process.
Step 6
Click on the "Finish" button once the restore process is complete to restart the computer with its original factory settings.