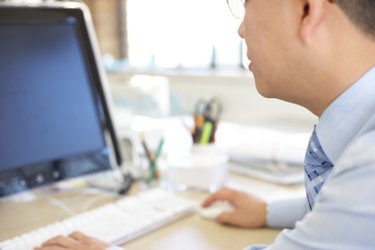 When you delete an email from your inbox in nearly all email systems, the email is not permanently deleted. Instead, the email is moved into a folder, usually labeled "Deleted" or "Trash," in case you need to recover the email later. However, when you empty the "Deleted" or "Trash" folder, the system removes the files permanently and they can no longer be recovered. While most email systems, such as Gmail, Yahoo and Hotmail, do not provide a way to retrieve deleted emails, Windows' Microsoft Outlook offers the capability.
Step 1
Open the registry editor on your computer. To launch the Windows registry editor, click "Start" and enter "Regedit" into the search box in Windows 7 or Vista, or go to "Start," "Run" and enter "Regedit" in Windows XP and earlier versions.
Step 2
Click the following keys in the left pane of the registry editor window: "HKEY_LOCAL MACHINE," "SOFTWARE," "Microsoft," "Exchange," "Client," "Options."
Step 3
Open the "Edit" menu. Click "Add Value."
Step 4
Enter "DumpsterAlwaysOn" next to "Value Name." Type "DWORD" next to "Data Type." Type "1" next to "Value Data" and press "OK."
Step 5
Close the registry editor, and open Microsoft Outlook by double-clicking the desktop icon or clicking the icon in the system tray. Pull down the "Tools" menu and click "Deleted Item Recovery." Microsoft Outlook automatically recovers any emails that were permanently deleted within the time frame that is set up on your server for saving deleted files.
Tip
You must be connected to a Microsoft Exchange Server to retrieve permanently deleted emails, which makes this Microsoft Outlook fix more effective in office environments than your home.