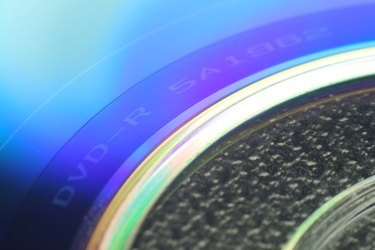 People most commonly use DVD-Rs to watch videos and listen to high-quality audio. But DVD-Rs can also be used for file backup and storage. While CD-Rs offer the same advantage, DVD-Rs allow more storage space for a larger amount of files. Fortunately, Windows comes pre-built with all you need to transfer your files to a DVD-R without any need for additional software.
Step 1
Insert your DVD-R into the DVD drive on your computer. Close the "Autoplay" dialog window that loads on your screen.
Step 2
Right-click the files or folders to copy and select "Send to," and then "DVD drive."
Step 3
Select "With a CD/DVD player" on the "How do you want to use this disc?" dialog box.
Step 4
Press the "Next" button. This brings you to the "Files Ready to Be Written to the Disc" folder.
Step 5
Click "File" and then "Burn to disc." This loads a "Prepare this disc" dialog. Enter a title for your disc in the "Disc title" field, and press the "Next" button to begin burning the disc.