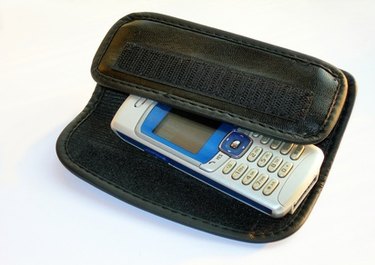 If you have a text message on your phone that you would like to keep, it does not have to stay on your cell phone alone. You can also send it to your email address and save it as a Word document for preservation. Remember that sending a text message to an email address could cost you more money, and it may take a while before the message appears in your inbox. It is also wise to double-check the contacts you are sending a message to before you click "Send."
Step 1
Open the "Contacts" list on your cell phone. Enter a new contact, listing the email address where you want your text message to be sent. Give it a name you can easily identify to avoid sending the message to the wrong contact. Click "OK" and check to see if the address is listed in your contacts.
Step 2
Open the text message in your inbox. Open the "Options" for the message and select "Forward." Select the contact you created in Step 1 and click "Send."
Step 3
Check your email inbox. Keep in mind that the message may not arrive immediately, but if it has still not arrived after a few hours, attempt to send it again. Depending on your cell phone provider, the message may be delivered as an attachment or as text within the email.
Step 4
Download the text message attachment and click "Save" when the download pop-up appears. Create a name for the file and save it as a text file, like a .doc or .txt. If the message was sent as text only in the e-mail, copy and paste the text into a text editor like Notepad or Word. Click "File," and then "Save as." Give the file a name when the "Save" pop-up appears. Press "Save." Your text message is now on your cell phone, in your email inbox and saved as a document on your computer.
Things You'll Need
Cell phone

Text editor program
Tip
If you do not receive the text in your email after a few hours, double-check the email address in your contacts before you attempt to send the message again.
Warning
Be careful when sending text messages that contain explicit or inappropriate content, especially if your co-workers or employers are in your contacts list.
If you are sending a text message from a friend's phone, ask your friend for permission first.