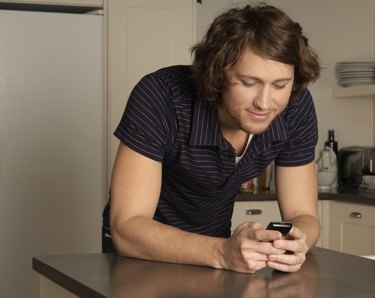 If you are in the habit of hosting spontaneous happenings, compose last-minute text message invitations to send out concise, simple invitations to the event. Some cellular carriers limit text messages to 160 characters in length, so keep the length of your entire message under this number to avoid splitting the invitation into two messages. Write concisely and specifically not only to limit the number of characters you use but also to clearly communicate event information to invitees.
Step 1
Create a new text message. Input the names or phone numbers of each person you plan to invite into the "To" field.
Step 2
Write a text message invitation that includes the name of the event, the date and times it starts and ends, its location and how to RSVP. For example:
Come to Angie's Big 3-0 Birthday Bash, Friday August 13 8:00-11:00 p.m., 1500 Main Street Apartment 155. Please R.S.V.P. via text.
Step 3
Check the character count in your phone's text message editor. If the character count exceeds the 160-character limit, edit the message to lower the character limit without losing any important information if possible.
Step 4
Send the text message to the recipients. Sit back and wait for the replies to come rolling in.