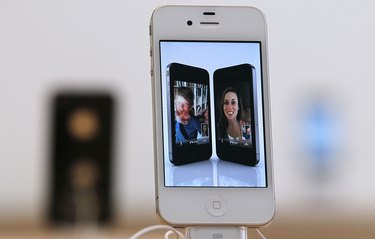 The Apple App Store contains more than 425,000 applications for iPhone users. These apps can be used to connect seamlessly with social networking sites, create to-do lists, find recipes and scan barcodes. Apps for scanning barcodes on the iPhone are easy to install and use, and do much more than take a picture. The Barcode Scanner app, for example, provides price comparisons and generates shopping lists. Shop Saavy is a barcode app that scan barcodes and also offers a price match feature and information on deals, coupons and rebates.
Step 1
Tap the " App Store" icon on the iPhone's homescreen.
Step 2
Tap "Search" in the App Store, then tap within the search field. Type "barcode" in the text field and tap "Search."
Step 3
Choose an application from the search results. Red Laser, Shop Savvy, Barcode Scanner and Barcode Reader are just a few of the barcode apps available through Apple. To download the application, tap the price or the word "free." If you are purchasing the application, you will need to sign in with your Apple ID. Click "OK" to start installation.
Step 4
Tap the new application to launch it. Hold the iPhone over the barcode and tap the screen where indicated to scan.