Searching the world for one person was once inconceivable without the help of professionals. Today, Internet search technology significantly increases your chance of finding the person you seek. Tools that were once the sole domain of private investigators are now at our fingertips.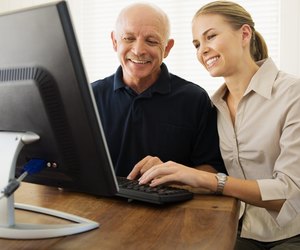 credit: Jupiterimages/Pixland/Getty Images
In 2009, more than a quarter of the world's population was online, according to the International Telecommunications Union. That means finding an old schoolmate, an absent family member, or a long lost friend might be just a click away.
Step
Search social and professional networking sites. FaceBook and MySpace are the big dogs of social networking, with hundreds of millions of users; about half are from outside the United States, according to USA Today. Classmates.com, YouTube, LinkedIn and Twitter also have large international user bases useful for finding people internationally.
Other social and professional networking sites are popular in specific countries or regions. International networking sites include Badoo (Europe), Netlog (Europe, Quebec, Arab nations), Mactoob.com (Arab countries), XING (Europe, China), QQ.com and Renren (China), Multiply (Asia), Odnoklassniki and Vkontakte (Russia), Bigadda (India), Mixi (Japan), Orkut (Brazil and India) and Sonico (Latin America).
Step
Use search engines that employ a wide range of sources and aggregation to find as much information as possible. Simply searching for a person's name may lead you to him. Google, Bing and Yahoo! all fit the bill, with advanced search features that are consistently upgraded as the technology expands.
According to Tech Crunch, the best search engines for searching for people are Pipl, Wink and Spock.
Search Engine Colossus features a comprehensive international directory of search engines, listed by country.
Step
Visit genealogy sites. Ancestry.com is one of the top sites worldwide. Designed to complete family trees and find family members, genealogy site searches aggregate data from many different sources.
Step
Access free public records to find people internationally. Public records including birth and death certificates, marriage licenses, divorce records, court proceedings, correctional facility databases, property and real estate transactions, military records and voter information can sometimes be discovered online. The extent to which these records are available via the Internet vary widely country to country and even county to county in the U.S. One resource for international records searches is people-search-global.com.
Step
Search for email addresses and phone numbers, using my.email.address.is, anywho.com or similar sites, that allow you to search email directories, white pages, yellow pages, and reverse look up phone number directories.
Step
Use a pay site. Once you have exhausted the free possibilities, you may choose to consult a professional service.