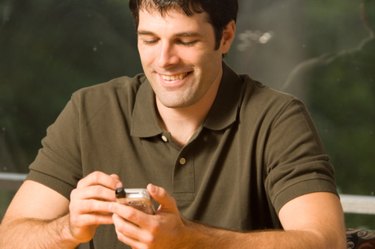 Sending a text message from your cell phone in the U.S. to someone in Canada is possible using most mobile phones, at various rates per text message sent. Some mobile phone service companies also feature international text and call packages to save money for frequent international calls and texts. Alternatively, use an online international text-messaging service.
Send a Text Message to Canada
Step 1
Call your mobile phone provider directly in regards to your international text-messaging rates (as this amount varies by company). Additionally, check past cell phone billing statements to verify if you have international text messaging or calling. Some phone bills may list international rates and charges directly on the bill itself.
Step 2
Send a text message to the person in Canada by entering "011" before the Canadian phone number, as this is the international dialing out code required to send a message or call a number outside of the U.S.
Step 3
Enter in the message you would like to send and submit the SMS message. Your international text message amount will be available to view on your next mobile phone bill.
Using an Online Service
Step 1
Open your computer's Internet browser (such as Google Chrome, Mozilla Firefox or Internet Explorer) and visit a well-known phone service website for international text messaging. Various international text-messaging services allow you to prepay for international messages while also obtaining an official account, while other services feature free international text messaging without the ability to store or save messages. Some popular text-messaging websites include IPIPI (ipipi.com), TXT 4 Free (txt4free.net) and TXT Drop (txtdrop.net).
Step 2
Choose the text-messaging service website you would like to send your text from, whether a free service or a prepaid international service.
Step 3
Enter in the entire Canadian phone number you would like to text on the international text-messaging service website, along with the actual text message you intend to send. Some companies allow you to enter an "alias" or name to appear when the text message is received, if you would like the receiver to know the sender. Click "Send" to send the international text message to Canada, directly from your computer.