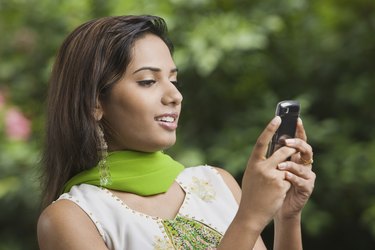 Text messaging may provide a degree of convenience, but it may prove expensive in the long run. To bypass this problem, you can easily send a text message from a computer for free. If you don't want to use a cell phone, use either an email or an instant messenger to send your message in moments.
Sending a Text via Email
Step 1
Sign into your email account; any email account provider will work. Then begin composing a new message.
Step 2
Next, address the e-mail to ##########@mymetropcs.com. (Put the Metro PCS customer's 10-digit cell phone number in place of the #s.)
Step 3
Finally, type out the text you want to send into the email and send it. This service is free because email providers don't consider it a text message—they see it as an email, a free service.
Sending a Text Through an Instant Messenger
Step 1
If using AOL Instant Messenger (AIM) to send a text, send an IM to +1########## with the recipient's 10-digit phone number replacing the #s. Type "+1" before the phone number; otherwise, it won't work.
Step 2
If using Yahoo Messenger or MSN Messenger, add the Metro PCS cell phone number into your contacts.
Step 3
Type out the text message as an instant message, and send it. As with emailing text messages, you can send them for free as an instant message because instant messenger providers simply consider it an instant message.