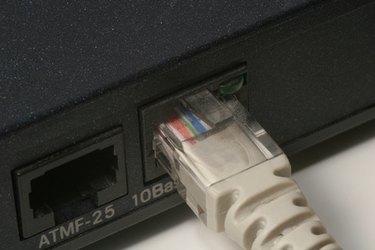 Download managers are very useful programs, speeding up the download of large files and allowing users to pause and later restart their downloads. To get the most out of a download manager, though, it should be integrated into the web browser that you use most often so that it can monitor clicks and download selected files automatically. Setting a default download manager for Internet Explorer is easy, generally requiring nothing more than adjusting the settings of the download manager that you are using.
Step 1
Close any open Internet Explorer windows to prevent open windows from interfering with the integration of your download manager.
Step 2
Open your download manager. Click the "Options" button or select the "Options" or "Preferences" listing from the appropriate menu in your download manager. A new window should open, allowing you to change the program's settings.
Step 3
Locate the browser or system integration options. In Internet download manager (IDM), these options are located on the "General" tab; they may be located elsewhere in other download managers.
Step 4
Select the "Internet Explorer" option to allow the program to be integrated into IE. Click "OK" to close the preferences window, then restart the IDM so that the change of settings can take effect.
Step 5
Open Internet Explorer and select "Manage Add-ons" from the "Tools" menu. Locate the add-on that is associated with your download manager and make sure that its status is "Enabled" to confirm that it has been integrated. If the status reads "Disabled," right-click the entry and select "Enable" to turn it on and then restart IE so that the add-on can take effect.