Apple iTunes 12 has a dizzying range of preference settings controlling how to import music, how iTunes should display, as well as many other settings you may not have thought to look for. All of the iTunes settings are found in the Preferences window. While many of the settings are under the General Preferences tab, it's a good idea to take a look at the other tabs, too. For example, if you don't want iTunes to warn you that it's not the default player for specific files, you can turn that off under Advanced Preferences.
Step 1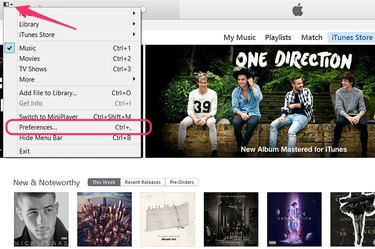 Click the tiny "Menu" icon located in the top right corner of iTunes 12 and then select "Preferences" from the drop-down menu. The Preferences window opens at the default General tab.
Step 2
Change your library name if desired and specify whether you want custom colors and check boxes displayed when browsing through your iTunes library. You can also select how large you want lists and icons to display by selecting the appropriate menu.
Step 3
Click the "When You Insert a CD" menu to choose if you want the CDs shown, displayed, imported, or imported and then ejected. The default setting "Ask to Import CD," will give you these options whenever you insert a disc. Click the "Import Settings' button for additional options.
Step 4
Click the "Import Using" option to choose what file format iTunes uses for imported files: AAC, AIFF, MP3, WAV or Apple Lossless Encoder, as well as your own custom setting. The default AAC setting, which stands for Advanced Audio Coding, is also known as MPEG-4. It has the same sound quality as MP3 with smaller file sizes. You can also specify the Import Setting, including High Quality, Spoken Podcast, a custom setting or the default iTunes Plus.
Step 5
Click the "Playback" tab to customize how songs and videos are played in iTunes. For example, if you don't want any gaps between your favorite tracks, you can use the Crossfade Songs option. If you want to have iTunes adjust every song to the same volume level, click the "Sound Check" check box. You can also specify your preferred video resolution or how video captions should appear.
Step 6
Click the "Sharing" tab if you want to make your iTunes library available on your local network. If you select this option, you can then decide if you want your entire library shareable or just specific playlists.
Step 7
Select the "Store" tab to enable or disable automatic downloads for new purchases, or to specify which HD resolution you prefer. You can also limit ad tracking used by Apple, sync subscriptions between devices, as well as select whether you want to share information about your iTunes library with Apple.
Step 8
Click the "Parental" tab to activate parental control features. Here, you can lock access to the iTunes Store, Internet radio, podcasts and shared libraries. If you want to restrict access to content, you can also specify what ratings should be used to filter music, movies, TV shows and apps.
Step 9
Click the "Devices" tab to manage backups for your iPod, iPhone or iPad. If you have an Apple remote, you can sync it to iTunes here as well.
Step 10
Click the "Advanced" tab to find out where your iTunes library files are stored in File Explorer, or to change the location to a different folder. Here, you can manage other settings not found under the other tabs, such as if the movie window should always be above other windows, or whether to display the iTunes icon in the Windows system tray.