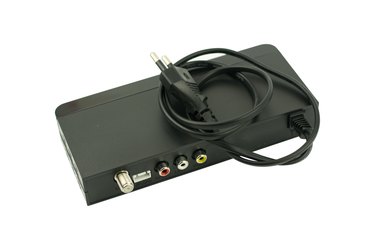 When a digital converter box is connected to a television, the antenna signal goes through the box, where it is converted to a digital format. This means you must use the converter box to change channels or adjust the volume. If you have lost or damaged the remote control that comes with a Zenith converter box, you can replace it with a universal remote. A Zenith universal remote works best because most or all of its programming codes will work with the converter box.
Step 1
Turn on the converter box by pressing its "Power" button. Press and hold down the "Code Search" button on the remote until the indicator light comes on. Release the button.
Step 2
Press and hold down the "Aux" button on the remote until the indicator light flashes, then remains lit. Enter one of these three-digit codes using the number pad on the remote: 254, 357, 454, 457, 557, 657, 757, 857, 955 or 957. When a correct code is entered, the indicator light will turn off. If you have a Zenith remote, any of the codes likely will work. If you are using a different brand of remote, enter the codes until you find one that works.
Step 3
Turn on the TV and aim the remote at the converter box. Experiment by pressing the "Channel" and "Volume" buttons on the remote. If the correct code has been entered, you will be able to adjust the volume and change channels with the remote.