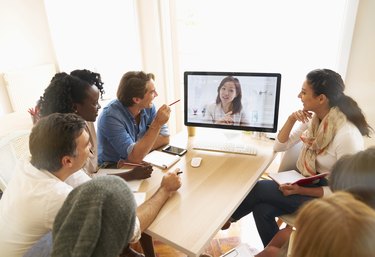 In today's economy of remote workers and long-distance collaboration, conference calling has become a go-to standard for businesses. Because of this, many popular phone service providers offer easy access to conference calling tools. AT&T allows its users to quickly set up, join and participate in conference calls with up to 500 individuals. As you can imagine, the flexibility and power provided by this service helps ensure that businesses and organizations of all sizes can enjoy quality communication opportunities, regardless of where they might be located. Learning how to set up a conference call through AT&T can be accomplished quickly and easily thanks to intuitive access tools provided by the phone service.
AT&T Conference Call Basics
Depending upon the specific number of individuals involved in your conference call, you may need to select from one of several calling options available to you. A reservationless service is available which allows users to join you in a conference call by dialing a unique phone number which is given to you, the host of the call, by AT&T. This may be the ideal option for individuals who've been part of an AT&T conference call before and fully understand the process.
For those who may require the assistance of a telephone operator, AT&T also offers a reservationless operator-assisted conference calling service. In this scenario, the host of the call delivers the name and personal telephone number for each person joining the call to an AT&T operator, who then calls them and connects them to the larger conference call. This may be ideal for first-time conference callers or for those who are less familiar with the technology.
AT&T Conferencing for Larger Groups
If you're planning a conference call which includes more than 50 people, you'll be required to use AT&T's reservation conference calling service. In this particular scenario, the host of the call is required to communicate directly with an AT&T operator who will then ask for a variety of pertinent information.
Paying for AT&T Teleconference Calling
The method by which callers join your conference call will largely determine how the service is paid for. For example, in the event that you, the host, choose to allow participants to join the call toll-free, you'll be responsible for paying all charges associated with the service. The host can also establish a conference call in which it's responsible for paying all fees except the individual calling costs, which are the responsibility of each individual joining the call. Depending upon your specific interests and needs, you can use one of the aforementioned plans to create a conference call for yourself and your colleagues or associates.