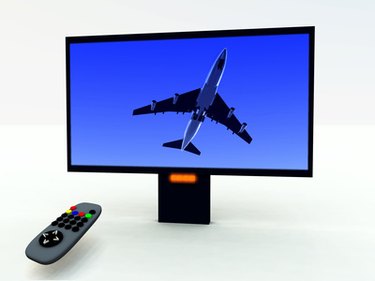 Roku is a manufacturer of Internet-based set-top boxes -- small devices that allow you to watch Web video, such as offerings from YouTube or Netflix, on your television. The latest version of the Roku box features Wi-Fi in addition to Ethernet, allowing you to access Internet video through your home's wireless network. The setup is relatively simple, though you will need access to a full computer and the wireless password for your network.
Step 1
Place the Roku box on your TV or entertainment center and plug it into the wall outlet. Connect the box to your TV with the included AV or HDMI cable. Insert the included batteries into the Roku remote.
Step 2
Turn on the Roku and the TV. Press the "Input" or "Source" button on the TV remote until the Roku menu appears. Follow the instructions until the wireless setup screen appears. Use the remote to select your network and input your Wi-Fi network access code, then press "next."
Step 3
Turn on your computer and log in. Start your Internet browser and type "roku.com/link" in the address bar. Press "Enter."
Step 4
Set up a Roku account if your don't already have one. Enter the code that appears on your TV screen to finish the setup process.