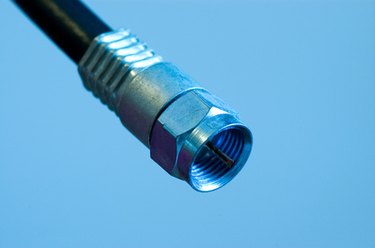 DirecTV digital video recorders (DVRs) are equipped with a built-in hard drive for capturing video and audio signals. The audio-video inputs on the rear of the DVR can connect to security cameras for video surveillance.
Step 1
Fasten a coaxial cable to the RF output jack on the back of each security camera, twisting the metal coupler on the cable clockwise to attach it to the threaded jack on the camera.
Step 2
Hook up the other end of each cable to an RF input on the back connection panel of the video switch box, which is a component with multiple jacks wired to selector switches on the front of the unit that lets you choose different cameras for surveillance.
Step 3
Connect a coaxial cable from the jack labeled "RF output" on the video switch box to the "RF IN" jack on the the rear of the DirecTV DVR system.
Step 4
Press the button on the front panel of the video switch box (used to connect the cameras in step 2) that corresponds to the camera you wish to record to the DVR.