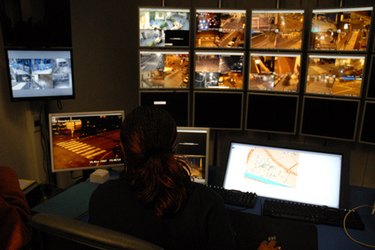 Security cameras typically connect to a recording device for capturing video of the area under surveillance. Digital video recorders are a popular option for this connection due to their long recording times on an internal hard drive and ease of use. If you don't want to hook up your security camera to a DVR, you can bypass the component and connect directly to a TV or monitor for viewing the signal from the camera.
Step 1
Turn off the TV and disconnect the security camera's power cord from the electrical outlet.
Step 2
Connect the video cable from the output jack on the back edge or side of the security camera to the matching input jack on the TV or monitor.
Step 3
Plug in the DC power adapter cable supplied with the security camera into the port on the back or side of the camera. Connect the other end to an electrical outlet.
Step 4
Switch on the power for the TV or monitor. Press the video input button on the front panel to activate the connection to the security camera. You can now monitor any area under camera surveillance without recording.