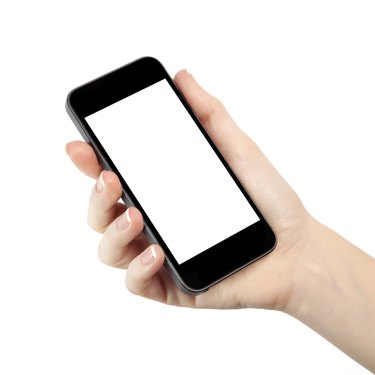 Unless there's a good reason why you want callers to receive a bland, generic voice mail greeting that provides little more than your phone number and a tone, set up a personalized voice mail message on your iPhone. Apple's iOS 8 operating system makes it easy to record and modify a voice mail greeting.
Set Up Voice Mail on Your IPhone
To set up voice mail, tap the Phone icon, tap the Voicemail icon and then "Greeting." There are two options available: Default and Custom. If voice mail hasn't been set up previously on your phone, Default is selected, which means people will hear your wireless carrier's generic voice mail greeting when they call you. Tap "Custom" to create your own greeting. When you're ready to speak your voice mail greeting, tap "Record" and speak your greeting as if you were talking to someone on your iPhone. When you're done, press "Stop." Press "Play" to listen to the message. If you don't like the greeting, simply press "Record" again to start over, "Stop" to stop recording and "Play" to listen to it again until you have it right. When you're done, tap "Save." Or, if you want to quit for now and return to creating a voice mail greeting at a later time, tap "Cancel."
Find Your Voice Mail Messages
When you tap the Phone icon, a number on the Voicemail icon indicates whether you have any new voice mail messages waiting to be heard. By default, you will also hear a tone whenever a voice mail message has been received. If you'd like to change the tone, open the iPhone's Settings app, tap "Sounds," tap "New Voicemail" in the Sounds and Vibration Patterns list, select a sound and exit Settings.