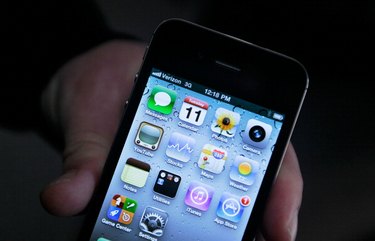 Unless you have an unlimited data plan, you probably know how the importance closing down bandwidth hungry apps to avoid excessive charges. Receiving email on your iPhone doesn't consume a huge amount of bandwidth, but the little it does use adds up over time. Consequently, if you don't want to receive messages on your iPhone for a while, you'll need to sign out of your email account. However, an iPhone doesn't allow you to just log out of your email account like you would from a computer. Instead, you must turn off the iPhone's Mail function temporarily.
Step 1
Tap the "Settings" icon on the iPhone's home screen, followed by the "Mail, Contacts, Calendars" option.
Step 2
Tap the email account that you want to log out of beneath the "Accounts" heading.
Step 3
Slide the "Mail" option to the "Off" position. You will now be logged out of that email address on the iPhone until you turn the account "On" again.