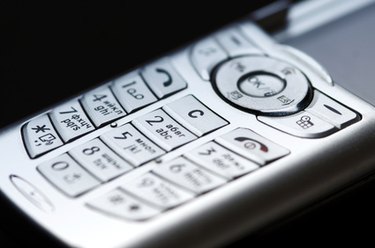 Disabling your cell phone is easy and exceptionally straightforward. You may want to stop your cell phone from working for several reasons. These range from choosing a new provider to moving out of the country to having had your phone stolen. Depending on the reason you want to disable the phone, as well as the contract you have agreed to, there are different ways to go about it. All of these methods are effective and will bring you to the end you desire.
Cancel Service
Step 1
Call your cell phone service provider and inform it that you desire to cancel your cell phone. It may assess a penalty if you are breaking the contract before it expires. For example, the Verizon policy states, "If your contract term results from your purchase of an Advanced Device after November 14, 2009, your early termination fee will be $350 minus $10 for each full month of your contract term that you complete." If your phone is a pay-as-you-go cell phone, you do not incur any sort of penalty for canceling payments.
Step 2
Save any contact information you have on your phone that you would like to keep, just to ensure that you do not lose it in the process, especially if you have saved it on the phone itself.
Step 3
Turn off the phone when the date of cancellation arrives (you may have had to wait for the end of a certain pay period). Your phone no longer works.
In Case of a Stolen Phone
Step 1
Call your cell phone provider and report the phone stolen.
Step 2
Indicate that you would like to deactivate your phone so that whoever stole it is incapable of using it. The cell phone provider will most likely suspend the phone, as opposed to entirely deactivating it, in the hopes that you recover it. As the AT&T site says, "After you have suspended your wireless service, your phone cannot be used to make or receive calls, forward calls, retrieve voicemail, or access data services. Suspending your wireless service does not release your wireless phone number. We will retain your wireless number for you."
Step 3
File a claim for your stolen phone if you have insurance on it. If not, you have to purchase a new phone if you do not recover yours.
Simple Methods
Step 1
Take out the SIM card. This is effective if you don't want to go through the steps of canceling your phone, or you only want to temporarily stop it from working. Without a SIM card, the phone cannot connect to the cell phone tower.
Step 2
Remove the phone's battery. Without a battery, the phone is useless and unable to run, regardless of whether a plan is attached to the phone or a SIM card is in it. Once again, this is a wonderful solution if you desire to temporarily stop your cell phone from working.
Step 3
Suspend the phone through your cell phone provider. Some providers may allow for this without penalty, and then you can reactivate your phone. This is useful if you are heading out of the country temporarily and will not be needing your phone.