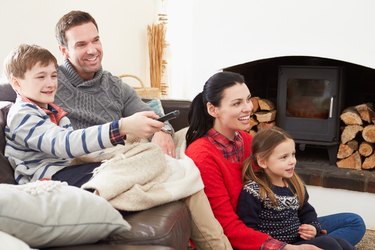 With more TV available online, people are choosing to ditch their cable subscriptions and watch TV via the internet. However, if you don't want to be stuck at your computer, there are ways to stream internet TV content directly onto your TV screen. You can connect to the internet using one of the many boxes, Blu-ray players and gaming systems currently available. Or you can connect your computer directly to the TV. This is easiest if your computer has an HDMI connection. You can also use a VGA or S-Video connection or a DVI to HDMI adapter with an HDMI cable.
Connect TV to Box or Gaming System
Step 1
Get high speed Internet service. According to Popular Mechanics, you'll need a connection which is at least 1.5MB per second in order to easily stream Internet content.
Step 2
Locate a source for your internet TV. You can find streaming TV on the internet through sites that you pay for such as iTunes, Amazon and Netflix. In addition, websites such as Hulu offer the latest episodes of many popular TV shows.
Step 3
Purchase a box/player to get streaming TV to your television. Gaming systems such as the Xbox and the PS3 are both capable of streaming TV content such as Netflix. Or you could get a standalone box such as the Roku player, which streams Netflix content and allows you to purchase TV shows from iTunes and Amazon.
Step 4
Hook your player or gaming system up to your TV using the reccommended cables.
Step 5
Follow guidelines given by the manufacturer of the player or gaming system to access streaming content on the Internet.
Connect Computer Directly to Your TV
Step 1
Follow steps one and two as above.
Step 2
Check the connections on your computer and your TV. Newer laptops have an HDMI connection while other laptops and computers may have an S-Video connection, a VGA connection or a DVI connection.
Step 3
Purchase correct cable and/or adapter to connect the computer to the TV. You can purchase cables at numerous places such as Radio Shack, or online at newegg.
Step 4
Change the display settings on your computer so that your computer can detect your TV. For instance, if you're using windows, you can go to the display setting on the control panel to select multiple monitors. It will allow you to display the image on both your computer and TV, or just on the TV screen.
Things You'll Need
High speed Internet connection

Computer

Roku, Gaming System or LG/Samsung Blu-Ray Player
Tip
If you are getting a picture but no sound, connect a sound cable from your laptop to your TV.