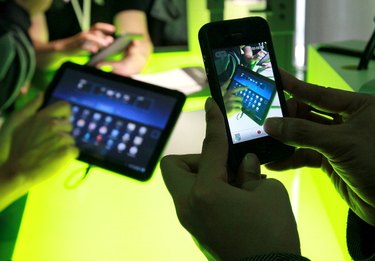 The beauty of smartphones powered by the Android operating system is that they provide immense computing power that you can carry in your pocket. However, that beauty comes with risk, since there is so much value in a small package. If your Android phone is lost or stolen, there are several Android applications that can help you find it.
Step 1
Open the application launcher on your phone. Tap the "Market" icon, then press the magnifying glass button. Type in "Lost Phone," then press "Enter." Choose the mobile application that meets your needs. Most will offer GPS location, though some also provide anti-virus software and other security features. Some applications are free and others must be purchased.
Step 2
Tap the listing for the app that you want to install. Tap the "Install" link. Wait for the file to download and the application to install onto your phone.
Step 3
Drag down the notification area on your Android phone, then tap the notice that your app is installed. This will launch the app for the first time. Enter the security settings you want, such as password protection and GPS tracking. You will be prompted to create a username and password, so that you can log in from the application maker's website to track your phone if it becomes lost or stolen.
Step 4
Log in to the website for the app that you downloaded, and enter your username and password. Use the online features to track and recover your phone using the GPS location. This will cause it to ring loudly or take pictures of the environment through the phone's camera.
Warning
Do not approach a thief on your own. Alert the authorities in your area and let them apprehend whoever stole your phone.