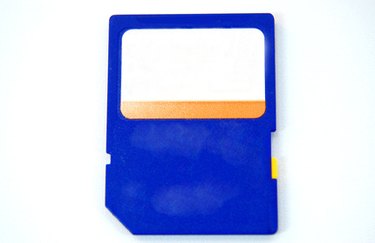 A Secure Digital card is a small, portable memory card that can be accessed on any device that has an SD card reader or adapter. The amount of information an SD card can hold varies, but one can usually comfortably fit many music songs in digital format. To transfer the music from a CD to an SD card, you must first convert the individual songs into digital files using a CD-ripping utility.
Convert CD Tracks to MP3
Step 1
Insert the music CD into your computer's disc drive.
Step 2
Launch your CD-ripping utility. If you do not have one, you can download a free program such as Audiograbber, CDex or Free CD Music Converter (see Resources).
Step 3
Allow the program to automatically create a song list from your music CD. You should see the song tracks appear in a window in the utility. Some programs will automatically find the song names while others may require you to type in the track titles manually.
Step 4
Place a check mark next to the songs on the CD you would like to convert.
Step 5
Select MP3 as the output file type. You may need to place a check mark next to this or choose it from a drop-down menu.
Step 6
Start the ripping process by clicking a button. Different programs will label this differently, but the button will usually say something like "Convert" "Rip CD" or "Grab."
Step 7
Allow the program to convert the CD tracks into MP3s and place them in a folder on your computer. This may take some time to complete.
Transfer MP3s to SD Card
Step 1
Insert your SD card into your computer's SD card reader.
Step 2
Open the folder where your CD-ripping utility stores converted files. If you don't know the default folder for your utility, you can usually find it by clicking "Options" or "Properties" from the top menu bar. Look for a section that shows the output folder for the program.
Step 3
Highlight the CD tracks you would like to move. You can hold down the "Ctrl" key on your keyboard and click each track once to highlight more than one at a time.
Step 4
Release the "Ctrl" key, right-click on one of the highlighted files and choose "Copy" from the menu. This will copy all of the files that you have currently highlighted. Minimize the music folder and double-click the "My Computer" icon on your desktop. This will show you a list of drives and storage on your computer, including your SD card.
Step 5
Double-click your SD card to open the storage drive window.
Step 6
Right-click inside of the SD card window and choose "Paste" from the menu. This will place a copy of all of the CD tracks on your SD card.