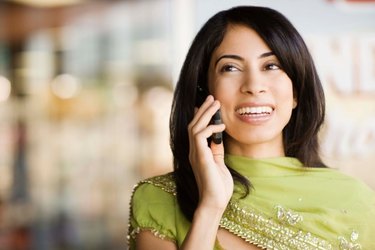 "Local Number Portability" is a process that allows users to transfer phone services from one provider to another, while keeping the same phone number. Thanks to this process, users can transfer their number from Walmart-based Straight Talk to AT&T, regardless of the reason. Upon request of the service change, AT&T takes care of the porting process for you once you provide the company with the necessary information. Porting takes between one to three business hours to complete.
Step 1
Navigate to the AT&T website (see Resources) and enter your phone number and zip code to determine if your number is still eligible to port back to AT&T. Portability is determined by FCC regulations and licensing areas. AT&T must still be licensed to provide services in the area you live for the number to be eligible.
Step 2
Gather your Straight Talk account information. You need to provide AT&T with your account number, name on the account, account billing address and any PIN or password needed to access the account.
Step 3
Visit an AT&T retail store or order an AT&T phone online for your new account. Provide the information for your new AT&T account as well as the information from your Straight Talk account. When checking eligibility online, you are given the option to "Shop Now" for your new phone and continue setting up your new account. Enter the information as requested to complete the process. If in the store, let the representative know you wish to port your number and they will assist you with completing the porting process.
Step 4
Leave your Straight Talk service active. The account automatically cancels during the porting process but it must remain open until that time in order for the port to complete.