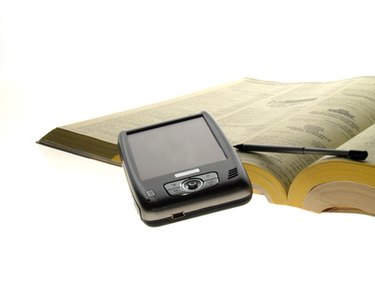 When you switch from Verizon Wireless to AT&T Wireless, you aren't just switching mobile carriers. You are switching types of mobile networks and the way your phone will identify itself to that mobile network. Verizon Wireless uses an activation program based on the international mobile equipment identity number to your handset, while AT&T Wireless uses a subscriber identity module (SIM) card inserted into the handset. This makes it even harder to transfer the address book than if you were switching to a carrier that uses the same type of network. Both Verizon Wireless and AT&T Wireless offer their customers a web based mobile phone backup system that can make the transfer easier.
Step 1
Turn on your Verizon Wireless phone. Open the Media Net application. Go to Browse & Download>Get New Application>Business Tools/Information>Backup Assistant. Click "Ok." Follow the screen prompts to create or enter a PIN and synchronize your Verizon Wireless address book.
Step 2
Log into your Verizon Wireless Backup Assistant from your computer's web browser. Go to Select All>Actions Menu>Export Contacts. Select the CSV format and click "OK." Click "Save." Choose a file location on your computer to save your address book file to. Click "Save."
Step 3
Go to the AT&T Wireless website and enter your wireless number into the Mobile Backup download page. Click "Send." Click the link in the text message you receive on your phone. Follow the screen prompts to download and install the Mobile Backup on your handset.
Step 4
Log into the AT&T Wireless Mobile Backup from the web browser on your computer. Open the Contacts tab. Click "Import Contacts" and follow the screen prompts to choose the CSV file you created in Step 2. Select all of the new contacts you uploaded to your AT&T Wireless address book. Click "Send to Phone."