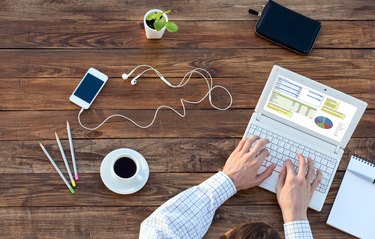 Internet tethering (also called Internet sharing) lets you connect to the Internet through your mobile phone, giving you access to the Internet in unusual places. If you use Internet tethering on your Cricket Wireless phone, it can be a little slow but it's definitely worth it if you don't have any other way to get online.
Step 1
Call Cricket Wireless to ensure that you have mobile web service on your contract. Add it if you do not already have it.
Step 2
Turn on your Cricket Wireless phone. Press the "Menu" button. Press the "9" key and then press the "#" key. Enter "333333" when the screen prompt asks you for the user lock code. Scroll down the menu and open the "DUN Mode" feature. Set the DUN Mode to "Enable" and click "OK."
Step 3
Connect your Cricket phone to your computer through the USB port. Go to the manufacturer's website to download the USB drivers if they do not automatically download when you connect the phone.
Step 4
Open your Internet browser on your computer. Go to "Tools" > "Options" > "Advanced" > "Network" > "Settings" (this may vary by browser). Choose the "Manual proxy configuration" for your browser. Enter "wap.mycricket.com" as proxy and "8080" as the port. Click "OK."
Step 5
Go to "Start" > "Control Panel" > "Network Connections" on your computer. Click "Create a new connection." Choose "Connect to the Internet" under "Network Connection Type."
Step 6
Choose "Set up my connection manually" and click "OK." Choose "Connect using a dial-up modem" on the next page. Set a name for the connection and click "Next."
Step 7
Enter "#777" when asked for your ISP's phone number. Then enter "yourphonenumber@mycricket.com" as the username and "cricket" as the password. Click "Dial" to begin the Internet sharing process.