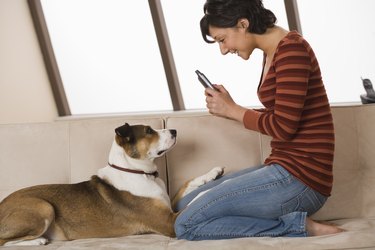 The Motorola Droid takes pictures that rival many digital cameras. The Droid can also take video. A nice option to have if you are out and about and do not have your digital camera with you. Capture your photos (or video) on your Droid, and then transfer them onto your computer for editing.
Step 1
Turn on your Motorola Droid by pressing the Power/Unlock button located on the right top side of the device.
Step 2
Insert the corresponding end of the USB Data cable into the data port on your Motorola Droid.
Step 3
Plug the USB end into an available port on your laptop or PC.
Step 4
Press the "Menu" button on the bottom physical keypad. It is located between the "Back" button and the "Home" button.
Step 5
Press "Notifications" on the on-screen menu that appears.
Step 6
Select "USB connected" on the on-screen menu.
Step 7
Click "Mount" on the on-screen menu, if prompted.
Step 8
Open the "My Computer" area of your PC or laptop and select the drive that corresponds to your Motorola Droid's device. It should be identified as the "Removable Disk" drive. If you have pictures stored on your Motorola Droid, they are likely stored in the "DCIM" folder under "Camera." Open those folders.
Step 9
Select the photos you want to transfer from your Droid to your computer and drag and drop them where you want them on your computer.
Tip
You also can load photos onto your Motorola Droid by placing pictures from your computer into the "Camera" folder.