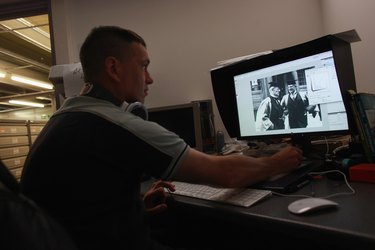 Transferring Adobe Photoshop from one computer to another is more complicated than just installing the software on the new system. Adobe's licensing and activation practices limit how many systems an individual Photoshop or Creative Cloud can run on at the same time. While the process is straight-forward for transferring licenses between working computers and computers you have access to, being unable to properly deactivate a license on a system complicates the transfer process.
Deactivate, Install and Reactivate
You can transfer Photoshop from one computer to another by deactivating the program on the origin system before activating it on the new computer. If you don't deactivate Photoshop from the original computer, the program will prompt you with an "Activation limit reached" error. You do not need to uninstall Photoshop to transfer it: uninstalling the program disables your ability to deactivate it. If you have uninstalled Photoshop before deactivating it, re-install the program on the original computer and run through the deactivation process.
Deactivating Photoshop Versions
The deactivation process requires an active Internet connection. If you're using Creative Cloud, you can deactivate Photoshop and the rest of the suite by opening the Creative Cloud application, starting Photoshop, signing in and selecting "Sign Out (Adobe ID)" from the Help menu. If you're using the Creative Suite or stand-alone Photoshop you can deactivate Photoshop by launching the program, opening the Help menu and selecting "Deactivate."
Program Licensing Terms
Adobe offers Photoshop licenses in two ways: you can buy the Adobe Creative Suite or stand-alone Photoshop for a flat fee or subscribe to the Adobe Creative Cloud for a monthly fee. You can install a single Creative Cloud, Creative Suite, or stand-alone Photoshop license to two computers at once. According to Adobe, you can install Photoshop on both your office and home systems with just one license. However, you need to deactivate Photoshop from one of the two systems to install it on a third.
Call Support for License Recovery
While deactivation is a relatively painless process, you may run into a situation where it's not possible. If you can't access the computer, you can call Adobe Connect Support at 800-42-ADOBE to deactivate your license. You will need your product serial number to deactivate: You can find it on the product box, prepaid card, reseller email or through Adobe.com's My Products and Services menu. You can plan ahead, if you're throwing out or selling a computer, by deactivating Photoshop in advance. However, you may not be able to plan ahead for lost access, if your computer operating system crashes, your hard drive fails or the computer itself breaks or is stolen.