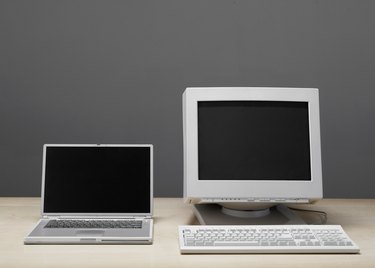 Rosetta Stone is a language learning program that can be used to quickly pick up the basics of almost any language. The Rosetta Stone program comes with a single-computer license, which means that you may only legally use Rosetta Stone on one computer in your home at any given time. Transferring your existing copy of Rosetta Stone to another computer is a fairly simple process that can be necessary where you find it appropriate to use the software on a different PC.
Step 1
Open the Rosetta Stone program and navigate to the options page, which is located in the upper right hand corner of the screen, between the "?" for help and the window button for fullscreen mode. Select the option to "Add or Remove Languages," and remove all of the languages that you wish to transfer to the other computer.
Step 2
Uninstall the Rosetta Stone software by going to the "Start" menu, then to the "Control Panel," then to the "Programs and Features" menu (for Vista and Windows 7) or the "Add/Remove Programs" list (for XP).
Step 3
Locate Rosetta Stone in the list and click on the Uninstall button located to the right of the program name. This will initiate the automated uninstall feature.
Step 4
Insert the Rosetta Stone CD into the other computer and follow the onscreen installation instructions.
Step 5
Insert the language disks into the computer, then navigate to the "Add or Remove Languages" screen (as in step one) to put the languages back onto the new computer.