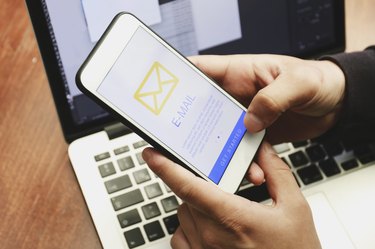 Most problems with your Comcast email can be solved by performing some basic troubleshooting. Start by verifying that your computer and network connections are configured properly. Check your email client to make sure your Comcast Xfinity account is set up right. If new Xfinity email problems with your email client persist, access your email through the official Comcast webmail portal. If all else fails, contact Comcast for assistance.
Perform Basic Comcast Email Troubleshooting
Before proceeding to more complicated solutions, perform some basic troubleshooting on your computer and network connections. Start by restarting both your computer, modem and wireless router, if applicable. Once they've all rebooted, open a new web browser tab on your computer and try to visit a website to verify you have a working network connection.
If you can't access the Web, click the "Network" icon in the bottom-right corner of your Windows computer screen, select your Comcast Xfinity network, click "Connect," and then enter your network password, if prompted. If you're on a Mac, check the network settings by clicking the Wi-Fi icon in the top right of your screen or using the Network menu in the "System Preferences" screen, accessible through the Apple menu.
Check Your Comcast Equipment
Check that your modem or router are both connected properly. Make sure cables haven't come loose and that they are inserted into the correct ports. Check your Comcast Xfinity equipment manual if you're unsure how cables are supposed to be connected. Check if other devices, such as additional computers or smart phones, on your wireless network are working properly.
If you don't see an obvious problem, restart your modem, router and computer to see if your connection improves. You can also try disconnecting and reconnecting the wires to your modem and router in case one has come loose.
Verify that you've paid all necessary bills to keep your service active as well. Also keep in mind that networks occasionally go down. If you also have Comcast cable TV, see if your TV is receiving a signal. Contact Comcast to find out about network outages and other technical problems that may be affecting your email.
View Your Current Email Settings
Open your email client to verify your settings are entered correctly. How you go about viewing your settings varies depending on the email application you use to access your Comcast email. To view these settings in the default Windows 10 Mail app, click "Settings" in the left navigation pane of the app.
Select your Comcast account to view its current configuration. In Outlook, click "File" on the main menu, choose "Account Settings," and then select "Account Settings" again. Click your Comcast email account, and then click the "Change" button.
Verify Email Account Configuration
Once you've brought up your current email settings in your email application, verify that they're configured properly. Your full Comcast email address should be in the email address field. The incoming and outgoing server fields should read "imap.comcast.net" and "smtp.comcast.net," respectively. The incoming email port should read "993" and the outgoing "587." Turn SSL encryption on, if prompted.
Use Comcast Webmail
Comcast's Xfinity service also has a comcast.net webmail system you can use to check your email on the go from any device with a Web browser. If you're having trouble using your regular mail application, use the webmail portal instead. Enter your full Comcast email address and associated password to log in.
This portal is also a handy tool if you can't remember your email address or password. Click the "Don't know your email or password" link to recover both items. If you know your address but can't remember your password, click "Forgot Your Password?"